Our experienced, knowledgeable and highly skilled gynae specialists provide ongoing clinical support within the hospital environment along with additional training, education and development. Our partners in the gynecological space include Axonics (formerly Contura), Idoman Teoranta, LiNA and Medtronic.
Our Gynaecology Products
The TruClear™ system offers a complete technology platform for the removal of a range of intrauterine abnormalities. An easy-to-use system, TruClear enables safe and efficient hysteroscopy procedures due to its patented in-built continuous flow mechanism for a truly clear view of the operative field throughout the entire procedure.
The Thermablate Endometrial Ablation System is a clinically proven, gentle, two minute treatment that can significantly reduce or stop heavy menstrual periods for women who have completed childbearing. Thermablate EAS is a one-time, non-hormonal treatment that reduces the need for major surgical intervention such as hysterectomy.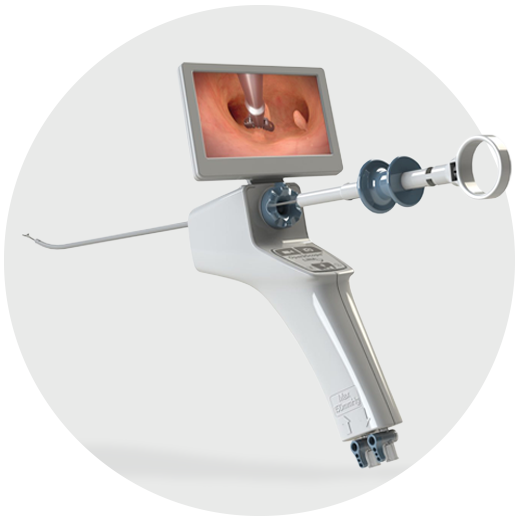 OperaScope™ is a disposable operative hysteroscopy system designed specifically with the office setting in mind. The convenient single-use design is ready for use out of the box, allowing for the diagnosis and treatment of patients without the constraints of traditional hysteroscopy. OperåScope™ is ideal for biopsy of cervix, Hormonal IUD (Mirena) insertion/removal & excision of skin lesions.
Librata™ is a disposable cordless endometrial ablation device. Librata allows for a simplified ablation procedure by being the first cordless, fully automated, disposable ablation device. The treatment is ~2 minutes, making the procedure short and quick for both the surgeon and patient. No cables. No generator. No capital investment. Each single-use device is ready out of the box.
Anchorsure® is a state of the art transvaginal sacrospinous fixation system. The Anchorsure® system is a straight and thin device for a safe anchor placement at the sacrospinous ligament. It delivers a small anchor through the sacrospinous ligament providing a strong fixation and minimising potential pain to the patient.