Premier Surgical was proud to support the Cappagh Hospital Foundation 2019 Annual Sports Lunch.
As always the event was very enjoyable and the panel discussion featuring Joe Schmidt, Brian Kerr, Pat O'Neill, Bernard Dunne, David O'Leary, Darragh Maloney, Fr. Phillip Mulryne, The Soubrettes and the Kane Sisters was superbly entertaining.
This event was a vital fundraiser to support the purchase of a dedicated Computed Tomography (CT) Scanner for Cappagh National Orthopaedic Hospital.
Cappagh Hospital Foundation is dedicated and committed to changing the lives of Cappagh National Orthopaedic Hospital patients through support and innovation.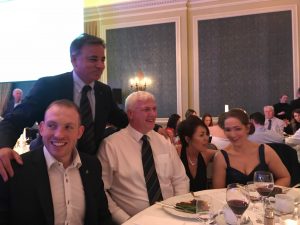 A very special day was had by everyone in attendance- Congratulations to all involved in organizing and running such a wonderful event.