GP Lower Limb Joint Injection Course
Our Orthopaedic team were proud to support the GP Lower Limb Joint Injection Course delivered by The Bon Secours Hospital Cork and held in ASSERT Centre, UCC on Wednesday the 8th of June.
With the pandemic delaying this inaugural course by two years, it was without question that demand was high for hands-on cadaveric training to enhance MSK Injection skills in the primary healthcare setting. This was evident in the attendance of 27 participants, facilitated by five expert faculty members.
The expert faculty on the day included:
Mr Rehan Gul, Consultant Orthopaedic Surgeon
Dr John O'Riordan, GP & Course Principal on the ICGP/FSEM Diploma
Mr Declan Reidy, Consultant Orthopaedic Surgeon
Mr Declan Bowler, Consultant Orthopaedic & Sports Surgeon
Dr Owen Cronin, Consultant Rheumatologist & General Physician
Special thanks also to GP participants for their feedback:
Dr Aidan Kelleher
Dr Tom English
Dr Helen Connolly
Key outputs from the day are available to view in the video below:
For more information, please visit:
About Suplasyn®
Suplasyn® is composed of sterile sodium hyaluronate solution 10 mg/ml and is indicated in the symptomatic treatment of osteoarthritis. It is reimbursed by the GMS and DPS. Suplasyn® is administered intra-articularly into the synovial space of affected joint (e.g. knee, hip, toe, ankle, thumb)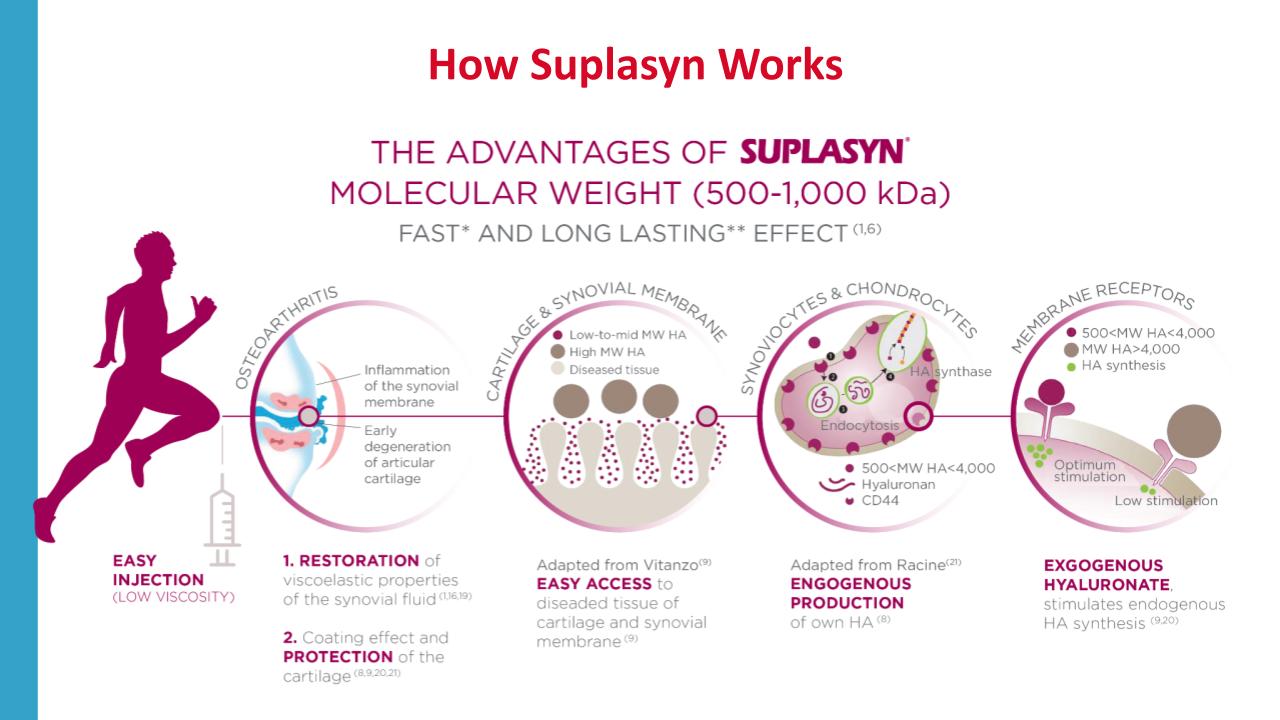 Benefits of Suplasyn®
> 80%

of improvement of pain (VAS scores)

(2)
Significant improvement

of all functional criteria

(1)
Significant improvement

of:




•

Extension ability

(1)
Suplasyn

®

can be efficient from the 1

st

injection and up to 6 months in the majority of patients

*** (2)

Up to 6 month clinical effect on pain and functionality

*** (2)
Optimum molecular Weight

: optimum stimulation of endogenous Hyaluronic




Acid synthesis & increased access to diseased tissue

(3)
Safety: Low levels of adverse events
1. Gydek A et al. ¨Efficacy and safety of intra-articular use of Hyaluronic acid (Suplasyn) in the treatment of knee osteoarthritis¨ Przegl Lek. 2011;68(6) 307-10.
2. Petrella R J: Hyaluronic acid for the treatment of knee osteoarthritis: Long-term outcomes from a naturalistic primary care experience. Am J Phys Med Rehabil 2OO5;84:287- 283.
3. Vitanzo C et al. Hyaluronans: Is clinical effectiveness dependent on molecular weight? The American Journal of Orthopedics. 2006; 421-28.
What makes Suplasyn® Unique?
Non Avian derived

, produced by

fermentation
> No risk of cross species contamination
> No risk of allergy or sensitization to avian proteins
Highly purified,

sterilized by aseptic filtration
Average molecular weight (

500 – 1000kDa

) carefully selected to
> Optimized primary mechanical and ancillary biological effects of Na-Ha therapy
(stimulation of endogenous hyaluronan production)
> Ensure easy and safe injection
Available in over 30 countries worldwide –

Manufactured in Ireland by Mylan (Now Viatris)